This is a great article about the power of your spend when you take it outside of Silicon Valley.  It's a great indicator of the housing crisis in Silicon Valley which appears to have no end in sight.
Great Homes & Destinations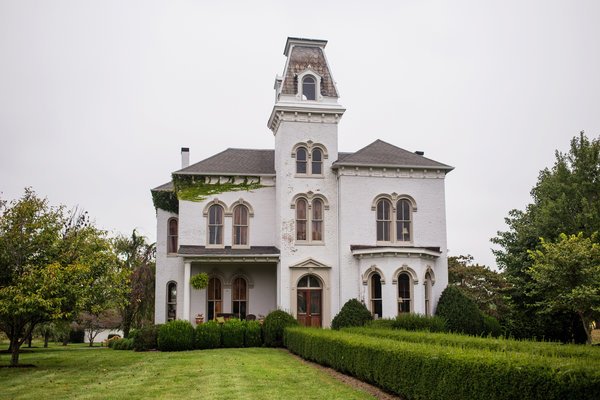 October 7, 2015
ALLENSVILLE, KY.
WHAT:
An antebellum Italianate Revival with six bedrooms and four bathrooms
HOW MUCH:
$1,000,000, furnished
SIZE:
Approximately 7,552 square feet
PRICE PER SQUARE FOOT:
$132
SETTING:
Allensville is a city of fewer than 200 people within an hour's drive of Nashville. Most of the area is rural, with hundreds of acres of farmland dedicated to corn, winter wheat and soybeans. The house, a grand white brick Italianate Revival built in the early 19th century, is on the small main road running through town, next door to the post office and across from a feed store. Shopping is in Clarksville, Tenn., about 20 miles away.
INDOORS:
The house, purchased in the mid-1990s by the current owners, was renovated over the past 20 years. Original features include 10-foot-tall solid wood doors with elaborately ornamented hinges, as well as 13 fireplace mantels. Floors are either Carrara marble or carpeted, while ceilings are 13 feet tall. The house is unusually bright for its age, owing to its tall arched windows, 65 in total.
The entryway opens to a grand hall that runs 50 feet to the back of the house. The chandeliers in the living room, dining room and stairwell were salvaged from the Carew Tower in Cincinnati and the Kentucky governor's mansion. The updated kitchen has a Sub-Zero refrigerator, a Jenn-Air stove and grill and Corian countertops. The custom cabinets are nearly 13 feet tall. Off the kitchen is a screened porch.
There's also a bar and billiards room on what was originally the back porch, with exposed walls of glazed brick. The ceiling is tongue-and-groove heart pine; the iron-and-mica light fixture is an early 1900s antique.
Two bedrooms are on the first floor, including the master suite. The elegant, twisting staircase has its original walnut railing, and leads to a large landing and four additional bedrooms. The attic is an unfinished space with open rafters and a spiral staircase to a small sitting area in the tower, with 360-degree views of the surrounding farmland.
The property also has an outbuilding with space for two cars and storage, as well as a small loft.
OUTDOOR SPACE:
The lot is three and a half landscaped acres, most of it flat and grassy, with a swimming pool flanked by ornamental columns and fountains.
TAXES:
Approximately $1,500 a year
CONTACT:
Suzanne McCallen and Danny Dew, for sale by owner, (615) 308-7485; hightowerplace.com
TAOS, N.M.
WHAT:
A compound with two adobe houses, one with two bedrooms and two and a half bathrooms, the other a two-bedroom guesthouse, as well as a chapel and a horse barn
HOW MUCH:
$997,000
SIZE:
Approximately 3,000 square feet in the main house and 2,000 square feet in the guesthouse
PRICE PER SQUARE FOOT:
$199
SETTING:
Taos is a town of about 5,700 people in the Sangre de Cristo Mountains, between the Carson and Santa Fe National Forests. The town is known for the ancient Taos Pueblo, still inhabited. A longstanding art colony, Taos has ties to D. H. Lawrence and Georgia O'Keeffe. This house is on nearly six acres off a dead-end road, with 360-degree views of mountains and sagebrush, and 10 miles from Taos Ski Valley.
INDOORS:
The houses were built in the 1990s by two artists, Ann Huston and Ed Sandoval. Construction is rock, wood and handmade adobe brick, with 26-inch-thick walls. Floors are hand-pegged cedar and pine, painted and sanded in some rooms for a rustic patina. The doors were either salvage or made by a woodworker in Taos. Views throughout are of mountains and sagebrush.
The two-story main house was designed to look old, with small steps between some rooms. The great room has a plastered beehive fireplace and built-in bench seats. Glass doors open to a porch overlooking a series of terraces that lead down the property's slope. The kitchen has open shelving and an island with an attached baking table made from a massive piece of Mexican mesquite. Ceilings in parts of the house are pitched, with exposed wood beams and paneling.
One bedroom, with a kiva fireplace, is on the main level. The other one is on a lower level that follows the grade of the land. Also downstairs is an office. The lower level opens to a porch, too.
The guesthouse also has two stories. It has a kitchen, kiva fireplaces in the living room and both bedrooms, and one and a half bathrooms. The property also has a small adobe chapel with a bell tower, a wood-burning stove and pews salvaged from an old church in nearby Arroyo Seco.
OUTDOOR SPACE:
Walkways connect a series of terraces and decks, including one on the roof of the main house and one with a hot tub. There's an outdoor cooking area next to a koi pond surrounded by juniper and ponderosa pines. The 5.7-acre property also has a two-car garage and an adobe chicken coop that looks like a church.
TAXES:
Approximately $2,418 a year
CONTACT:
Pavel Lukes, Dreamcatcher Real Estate Company, (575) 770-1116; taosnewmexico.com
ATLANTA
WHAT:
A midcentury modern with three bedrooms and three bathrooms
HOW MUCH:
$999,000
SIZE:
2,422 square feet
PRICE PER SQUARE FOOT:
$412
SETTING:
This house is in LaVista Park, a residential neighborhood in northeast Atlanta, about seven miles from downtown. Most houses in the neighborhood are either midcentury moderns or postwar ranches; teardowns are common. The massive Lenox Square mall is within three miles; Emory University is about a mile and a half away.
INDOORS:
The single-story brick house was built in 1953 and extensively renovated in 2014. The sleek, clean-cut interior has recessed lighting and plenty of picture windows. Floors are a mix of original hardwood and newly laid Porcelanosa tile in light gray. The formal living and dining rooms are open to each other, with a granite fireplace in the living room. The adjoining kitchen has stainless-steel GE Monogram appliances and quartz countertops. Off the living room, there's a family room; off the kitchen, there's a den.
During renovations, the owners added a screened outdoor living room with a kitchen, measuring an additional 680 square feet. Here, floors are tile, while the trim is cedar and the ceiling is made from pine slats. There are a brick fireplace, a five-burner grill and a two-burner cooktop as well as a sink and a refrigerator. A large serving window opens to the main kitchen.
Bedrooms have the original wood floors. The master has a custom maple closet. Its bathroom has a glass shower with heated floors and a custom walnut countertop. One of the other bedrooms has a cedar closet.
OUTDOOR SPACE:
The lot is about a third of an acre, landscaped with mature cypress and hydrangeas. There are an outdoor shower and a pergola.
TAXES:
$5,180 a year
CONTACT:
J. Dunn and Lisa O'Connor, Intown Expert Realty, (404) 992-8142 /(404) 307-5700; intownexpert.com