Zipcar made a name for itself by making it easy for anyone to borrow a car. Now the company has a new project — bikes.
In January, Zipcar will launch Zipbike, a program with bikeshare company Zagster, to open 10 bikeshare networks on college campuses around the country. Zipcar envisions a total of 15 bikeshare programs by the end of next year.
Students and faculty will have access to cars and bicycles with a single membership. Zagster chief executive Timothy Ericson called it the first integrated multimodal transportation system for a university. His company currently operates bikeshare systems on more than 25 campuses. Each program generally has a couple dozen bikes.
Related: What the next great bikeshare system will look like
Zipcar's involvement is expected to dramatically reduce the barriers to a university opening a bikeshare on campus. Zagster typically charges schools a monthly $150 fee per bicycle. Ericson said the partnership would reduce the cost for schools by 90%. Zipcar said it gains from the partnership because it can offer a broader range of mobility choices to its customers. (Customers can join just Zipcar or Zipbike, but there will be a discount if someone sign up for both.)
The partnership is also a reminder of big transit companies increasingly embracing the sharing economy and bike transportation. Last week, Ford (F) announced that it was sponsoring San Francisco's bikeshare network, allowing it to expand from 700 bicycles to 7,000.
"We're seeing a real flowering of interest and investment in bikeshare that will bring new choices to people, and show the maturing nature of the industry," said Matt Martin, project manager for the North America Bikeshare Association. Currently, more than 50 colleges and universities around the country have a bikeshare program, according to Martin.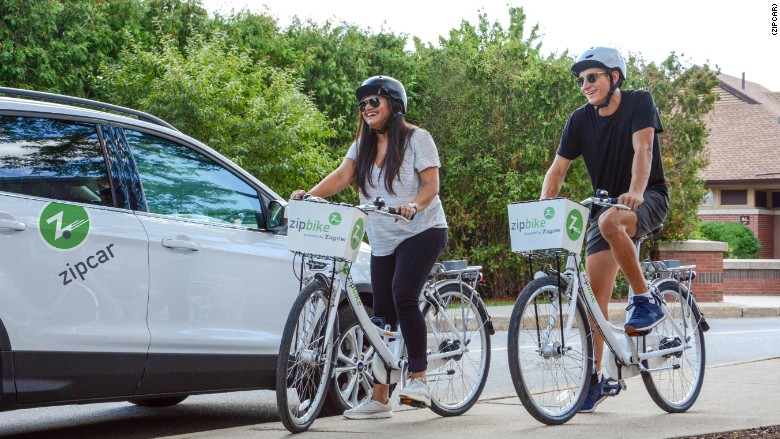 "Every university that has carshare today will have bikeshare in the next five years. It's our goal to make it a Zipbike bikeshare," Ericson said.
Currently Zipcar offers vehicles on 500 campuses in North America. The company reached the milestone of one million members worldwide earlier this month.
David Piperno, Zipcar's vice president for finance and strategy, isn't concerned about the bikeshare system cannibalizing its existing business.
"We're looking to really scale this thing across North America," Piperno said. "We're optimistic that the 15 campuses is a low-end number."