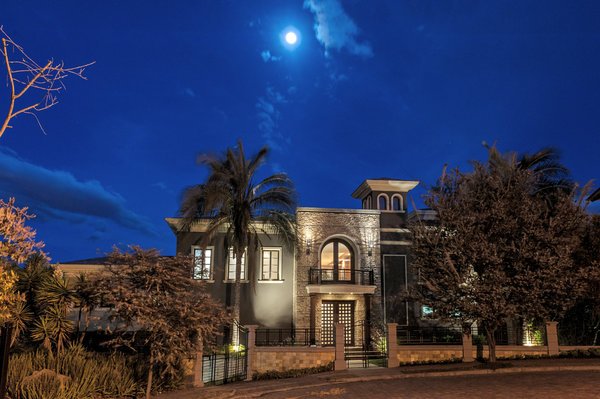 October 7, 2015
A MODERN FOUR-BEDROOM VILLA WITH A POOL OUTSIDE QUITO
$2.2 MILLION
This two-story house, with four bedrooms and four and a half baths, was built in 2005 on a hillside in the Cumbayá Valley, about a 10-minute drive from Quito's historic center. It is part of Rancho San Francisco, a 54-acre gated community including Club Rancho San Francisco, with tennis courts, swimming pools and equestrian facilities.
"San Francisco is probably the most prestigious community in the area," said Stephen Marchant, an independent real estate agent and owner of QuitoHomes.com, a listings and information site.
The 8,600-square-foot home sits on a grassy plateau surrounded by palm trees, offering wide views of the valley. It has a practice putting green and a swimming pool next to a wide covered terrace with stone floors, wide arches and hardwood columns.
The home is owned by an interior designer, according to Paulina Mora, the commercial manager of Nexos Inmobiliarios, the listing agent for the property. Features include domed ceilings, stone walls and fixtures of dark hardwood, including furniture and built-in bookcases. Ceilings in the main dining room and the family room have intricate wood carvings imported from India. The home is priced at $2.2 million unfurnished, or $2.5 million with the furniture included, Ms. Mora says. (Ecuador uses the United States dollar as its primary currency.)
The ground floor has a large entrance hall with flagstone flooring, a modern kitchen, a dining room and a living room with one of the four fireplaces in the house. Wood and glass doors in the living room and dining room lead to the terrace, with valley views. The master bedroom is also on the ground floor and has a walk-in closet, a personal gym and a bathroom with a Jacuzzi tub, as well as doors leading to the terrace.
A staircase with hardwood banisters leads to the second floor, where there is also a living area currently used as an office. Each of the three bedrooms on this level has a walk-in closet and private bath, as well as access to a balcony facing the valley.
The main house has two bedrooms for staff, each with its own entrance and bathroom. There is a covered garage big enough for four cars.
There are strict rules on development in Rancho San Francisco, Ms. Mora said. Owners can build on only 70 percent of available land and houses cannot exceed two stories, in order to preserve views, she said.
The home is about a 25-minute drive from Mariscal Sucre International Airport outside Quito. A commercial area with shopping and restaurants is about a 10-minute drive from the house.
MARKET OVERVIEW
From 2006 to 2014, the market in Ecuador was "booming," Mr. Marchant said. The country was regularly appearing on lists of top off-the-beaten-path second-home destinations, based on the relatively low prices and the warm climate. While home sales data is sparse in Ecuador, prices in some neighborhoods have more than doubled in the last 10 years, agents say.
But the market has slowed in the past year, agents report. The drop in oil prices has hurt the economy, which relies heavily on oil exports, and government officials have raised the possibility of increasing property and capital gains taxes, dampening the market, Mr. Marchant said.
Prices are no longer rising in most areas, and some owners eager to sell have started to lower their prices, he said.
"It's definitely been a seller's market, and now we're getting into a buyer's market," Mr. Marchant said. "There is uncertainty in the market."
Few properties are available for sale in high-end neighborhoods like Rancho San Francisco, Ms. Mora said. In Rancho San Francisco, a lot of about a third of an acre that sold for $750,000 in March 2014 would be listed at closer to $920,000 today, Ms. Mora said.
"Although sales activity in Ecuador has gone down from the past couple of years, there are sectors where supply is very low and demand is very high," Ms. Mora said. "As a result housing prices are maintained or continue to rise, which is the case with properties in Rancho San Francisco."
WHO BUYS IN ECUADOR
Quito is primarily a business city, and does not have the same number of international second-home buyers found on the coast and in the hills. But the capital still attracts a steady flow of international buyers, thanks to Ecuador's oil business, which draws companies from around the world. Buyers from the Middle East, North America and Asia are common in Ecuador, as well as from South America, agents say.
In Rancho San Francisco, "most of the buyers are Ecuadoreans, but American and European buyers are active in the neighborhood as well," Ms. Mora said.
BUYING BASICS
Ecuador does not have a multiple listings service, so it can be difficult for buyers to track down properties for sale. Agents typically work for sellers, not buyers. Buyers are left to search for properties on the Internet or hire a local buyer's agent to help hunt down properties offered through various agencies in the area, agents say.
There are no restrictions on foreigners buying property, said Sebastián Cordero, a Quito-based lawyer specializing in property and immigration issues. But it is important to hire an independent lawyer to confirm there are no liens against the property or any other restrictions that might slow the sale, he said.
There is no escrow system in Ecuador, so buyers must be particularly careful about how they transfer money, Mr. Cordero said. Sellers often ask for a refundable deposit, often as much as 10 percent of the purchase, which should be transferred only when there is a signed and notarized promissory note, he advises clients.
Problems can also arise in the process of transferring money into the country, since nonresidents cannot set up bank accounts or obtain a mortgage, Mr. Cordero said. He advises clients to allow from 10 to 30 days to wire money into the country. Payments are usually made by certified check, he said.
WEBSITES
Quito tourism site: quito.com.ec/en
Club Rancho San Francisco: crsf.com.ec
LANGUAGES AND CURRENCIES
Spanish; United States dollar
TAXES AND FEES
Total closing costs, including the notary and registration costs, are typically about 2.5 percent to 4 percent of the purchase price, agents say.
Annual property taxes are typically about 1 percent of the value of the property set by the local municipality, not of the sales price. (The value placed on a home by the municipality is often lower than the sales price, agents say.)
When a homeowner sells, the capital gains tax is 10 percent of the profit.
CONTACT
Paulina Mora, Nexos Inmobiliarios,  (011-593) 99801 8455 or 2 289 2245; nexosinmobiliarios.com